Damages for Infringement of Design Patents – Supreme Court Clarifies Rules in Apple v. Samsung
Apple Inc. is known for the number of patents it owns. Apple doesn't just own patents, it actively engages in enforcing its patents. This includes a case against Samsung that has been winding its way through the courts for years, where Apple claims that Samsung infringed some of Apple's iPhone patents. This case reached the U.S. Supreme Court, and the Court issued a decision clarifying determination of damages when there is design patent infringement.
As previously discussed, design patents can be a great way to protect a company's products. However, there is often a question about the scope of protection, since design patents claim only the "ornamental design†as shown in the drawings.
The Apple case shows that design patents can have great value. This case began years ago with a jury trial on claims that Samsung's smartphone infringed some of Apple's iPhone design and software patents. In August 2012, the jury awarded Apple almost $1 Billion in damages. After various post-trial proceedings and appeals, Apple was awarded $399 million in damages due Samsung's infringement of three of Apple's design patents.
The three design patents at issue were:
U.S. Design Patent Number 618,677 claiming a black, rectangular surface with rounded corners;
U.S. Design Patent Number 593,087 claiming beveled edges on a rectangular shape;
U.S. Design Patent Number 604,305, claiming 16 icons displayed on the surface.
Since design patents don't actually use words to describe their claims, and since a picture is worth a thousand words, one figure from each of the design patents is shown below.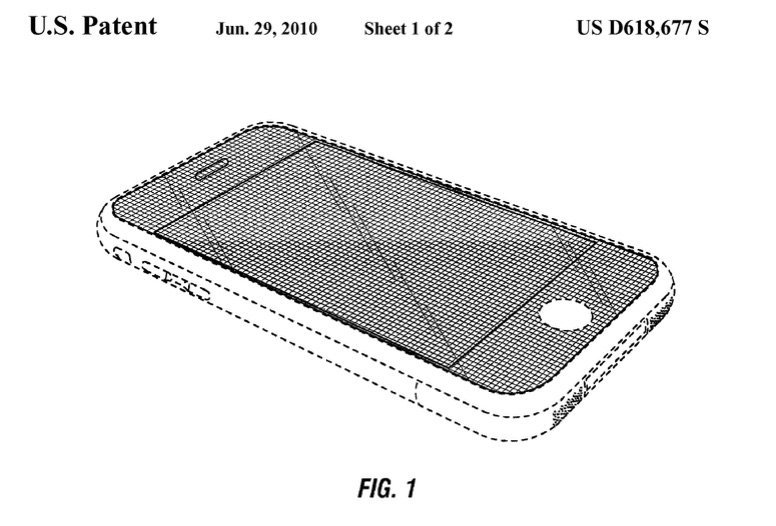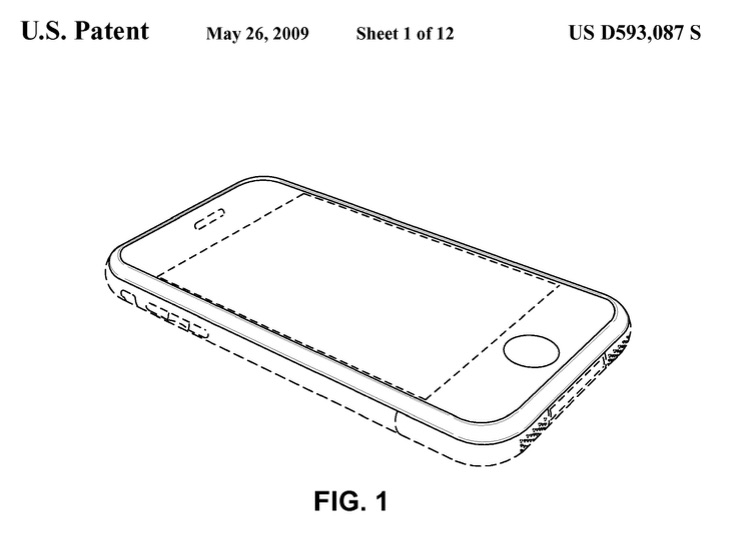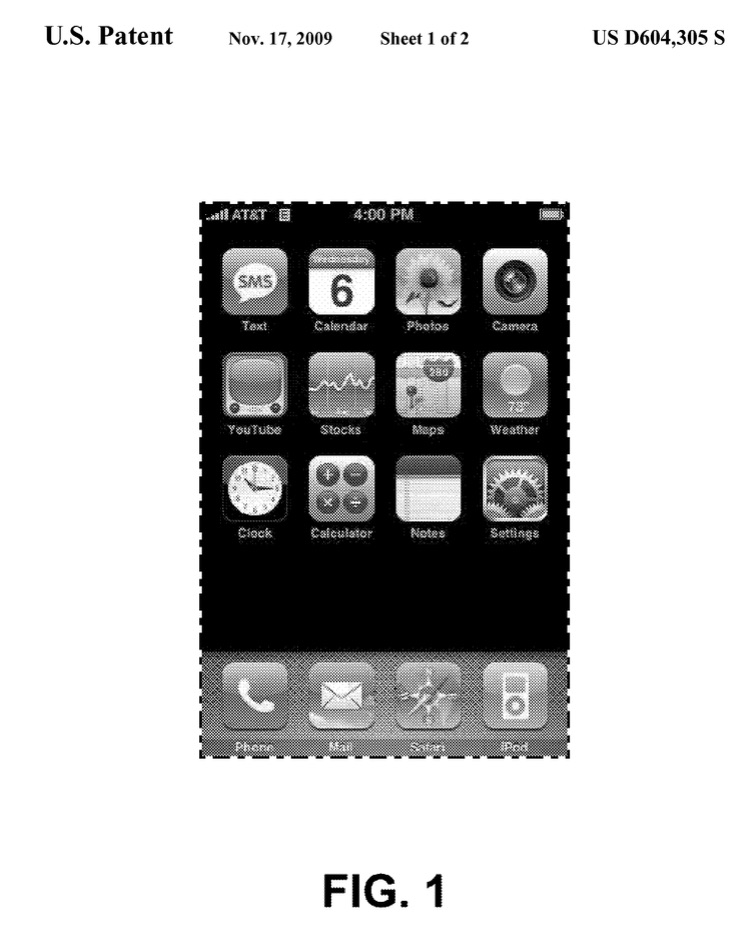 Based on a finding that Samsung's smartphones infringed of these three (relatively simple – a black rectangle with rounded corners? a beveled edge???) design patents, Apple had been awarded $399 million in damages. Samsung appealed to the Federal Circuit which upheld the damages award. Samsung again appealed to the U.S. Supreme Court, and the Court took up this design patent case.
The Supreme Court looked at the narrow issue of how damages are calculated in design patent infringement cases. In October 2016, Supreme Court held that the Federal Circuit had improperly analyzed the basis for calculating damages. Samsung had argued that damages should be based on profits attributable to the screen, or case of the smartphone, as shown in Apple's design patents. The Federal Circuit held that damages must be calculated based on sales of the entire smartphone.
The Supreme Court reversed the Federal Circuit. The Court noted that design patent damages are awarded based on profits associated with an "article of manufacture†to which the design is connected. See, 35 USC §289.*
For example, a dinner plate with a patented design is the "article of manufactureâ€. A dinner plate has only a single component, and the profits from sales of the infringing dinner plates are easy to calculate. However, the Court noted that when a product (such as a smartphone) has multiple components, identifying the "article of manufacture†to which the design has been applied is a more difficult task.
The Federal Court had reasoned that the "article of manufacture†was the entire smartphone, since consumers can only purchase the entire smartphone; they cannot purchase the individual components. The Supreme Court rejected this analysis, finding that an "article of manufacture†is not limited to the end product, and may also include the various components. Thus, in cases like this one, a patent holder will be entitled to the infringer's total profit from a component of the end product, and not the total profit from the end product itself.
The Supreme Court remanded the case to the Federal Circuit for further proceedings consistent with its opinion.
---
---
* "Whoever during the term of a patent for a design, without license of the owner, (1) applies the patented design, or any colorable imitation thereof, to any article of manufacture for the purpose of sale, or (2) sells or exposes for sale any article of manufacture to which such design or colorable imitation has been applied shall be liable to the owner to the extent of his total profit, but not less than $250 . . . .†35 U. S. C. §289.
---
---
Adams Law Office provides this blog for informational purposes only. No legal advice is intended or given. Please contact Adams Law Office if you have a question about patents, trademarks, or other intellectual property matters.