Apple, Inc. and What a Company can do with $231.5 Billion Cash-on-Hand
People often ask about the extent of patent and trademark applications needed to protect the intellectual property of a business. As shown by Apple, the answer is: as much as possible.
Apple, Inc. has $231.5 billion in cash-on-hand. When a company has this kind of cash it can afford to pursue patent applications that others might not pursue due to the expense involved.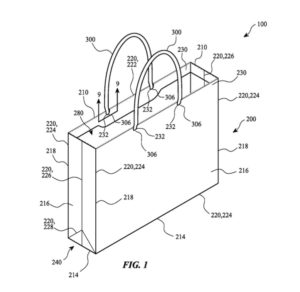 The U.S. Patent & Trademark Office ("PTOâ€) recently published a patent application by Apple, Inc. for a paper bag – a white paper bag with 60% post-consumer content. Apple's first claim reads, in its entirety:
"A retail paper bag, comprising: a bag formed of white paper with at least 60% post-consumer content.â€
This patent application was filed a few months ago, and the PTO has not taken any significant action on this application.
Apple is also pursuing another patent application by the same inventor, for a "Display Apparatusâ€. The first claim in this patent application claims an "upper branch†for hanging the display apparatus, and adhesive on two locations of the "lower branchâ€. See figures below.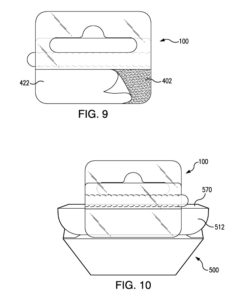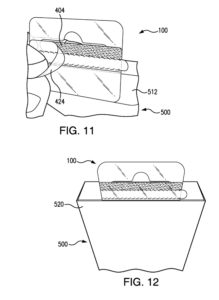 This patent application has received a final rejection from the PTO. But, Apple has not given up. It has filed a request for continued examination* and continues to pursue this patent application.
Apple is spending a lot of time and money pursuing utility patents on these inventions. One question is — why not file a design patent for each these items? A design patent is far less expensive, and seems more appropriate for the simple inventions claimed by these patent applications.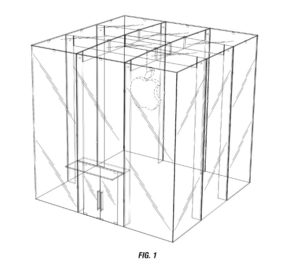 Apple has obtained several design patents, issued in Hong Kong, on its store layout.
Apple has also obtained a USA design patent on another version of its store layout, shown here.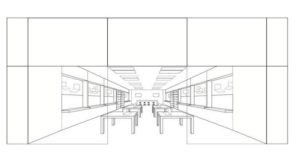 Or, perhaps Apple should be pursuing a trademark on its bags and displays. Apple has already obtained a trademark on its store layout, shown in the figure to the left.
Apple clearly believes that the protections afforded by design patents, utility patents, and trademarks are important to its business model. Apple is willing to apply for many patents and trademarks in its efforts to protect its intellectual property.
---
* A request for continued examination is a procedure for continuing prosecution of a patent application by paying additional fees.