Nikola vs. Tesla – Design Patent Litigation – What Would Nikola Tesla Think?
Design patents can be an effective method of protecting the look of a product or brand. Design patents are somewhat narrow in scope because they protect only the actual design shown in the patent. However, the narrow scope of design patents can still provide real protection of intellectual property especially when multiple design patents are used to protect a concept, as shown by the lawsuit Nikola Corporation has filed against Tesla, Inc.
Nikola applied for and received multiple design patents covering the look of the front end of its new alternative-fuel truck. Three of the design patents identified in its lawsuit are shown below. In a design patent, the features with solid lines are protected by the patent. The features shown in dotted lines represent the environmental surroundings, and are not claimed. Each of the design patents below claim a different feature of the same over-all truck design.
Well after Nikola filed these patent applications Tesla began tweeting and advertising its "new†alternative-fuel truck design, which is scheduled for release in 2019. The Tesla Semi is shown below, next to the Nikola One truck. It is apparent there are similarities between the two designs. But, it is also apparent that there are differences.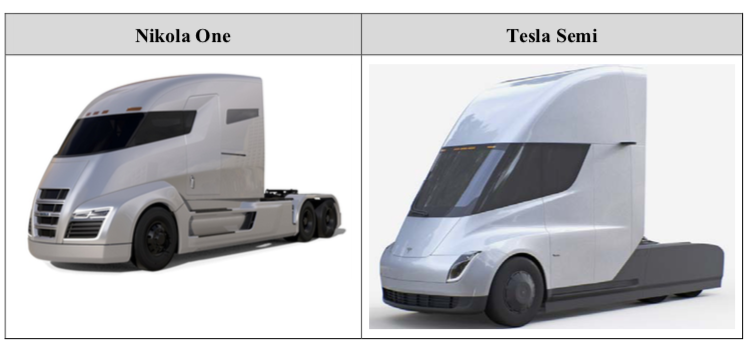 Nikola's lawsuit contends that Tesla infringed Nikola's wrap-around windshield (shown in D811,968). Nikola's lawsuit also claims that Tesla infringed its mid-entry door panel (shown in D816,004). According to Nikola's complaint, the wrap-around windshield and mid-entry door allow a driver to be closer to the front of the cab, and provide additional room inside the cab. Finally, Nikola claims that Tesla is infringing the aerodynamic fuselage design (shown in D811,944).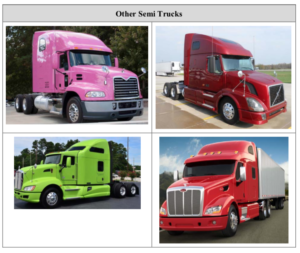 Nikola would have a much weaker case if it had only one design patent that attempted to cover all of the features included in its new design. Instead, Nikola filed multiple design patent applications with each application covering one feature of the new truck design. It appears that the wrap-around windshield, mid-entry door, and aerodynamic fuselage are all completely new to the trucking industry. Nikola's complaint included photos of existing trucks, none of which have these features.
It will be interesting to see how this case is resolved, and whether the minor differences between the Tesla Semi and the patented designs will be sufficient to overcome Nikola's patent infringement claims.
---
This blog is made available by Adams Law Office for educational purposes only to convey general information and a general understanding of the law, and not to provide specific legal advice. By using this blog you acknowledge there is no attorney-client relationship between you and Adams Law Office. This blog should not be used as a substitute for competent legal advice from a licensed professional attorney applied to your circumstances.