Bloomberg Uses NDAs – When Should A Business Have an NDA
Presidential candidate Michael Bloomberg was challenged over his use of Non-Disclosure Agreements (NDAs) with women from his past. In addition, Bloomberg's campaign staff reportedly are required to sign NDAs that preclude staffers from disclosing "all non-public information". While this may seem extreme to some, there are definitely times when businesses should use an NDA.
Inventors, entrepreneurs, and businesses all need a Non-Disclosure Agreement whenever developing a new product, or developing a new business model. An NDA is essential when dealing with:
Manufacturers or companies that build prototypes
Investors
Potential partners
Having a signed NDA in place is crucial to protect your business before discussing your business plans or ideas with any of the above.
A reputable company that manufactures products or builds prototypes will typically have a standard NDA, and often these NDAs have fair terms. However, it is important to have an attorney review the NDA to look for potential issues involving ownership and/or licensing rights, which can crop up in NDAs from manufacturers.
Likewise, your business should have a standard NDA that it can provide to potential investors or partners.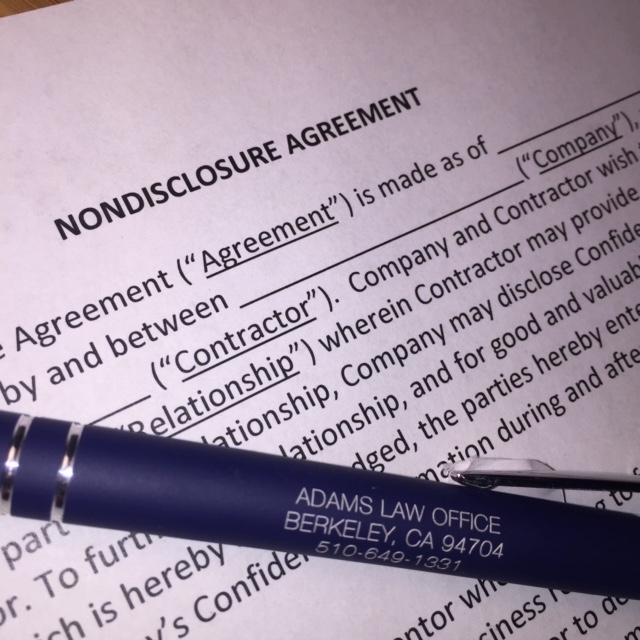 Having your own NDA shows that you are serious about your business and about protecting your rights. Potential investors and partners will expect a business to have an NDA, and having an NDA will help to protect your business from exploitation by others.
Adams Law Office drafts non-disclosure agreements for a wide variety of businesses and entrepreneurs; and can review NDAs from other manufacturers to help protect you from signing away some of your rights. Contact Adams Law Office to discuss protecting your business and your inventions.
---
This blog is made available by Adams Law Office for educational purposes only. It is intended to convey general information and a general understanding of the law, not to provide specific legal advice. The blog discusses the state of law at the time of writing. Later events may change the law and/or analysis. This blog should not be used as a substitute for competent legal advice from a licensed professional attorney applied to your circumstances.